This week I'm saying SO WHAT if...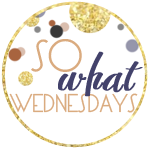 I broke my clean eating diet by eating a Lean Cuisine for lunch yesterday. I was in a hurry, both babies were napping, I needed something quick. Lean Cuisine it was.
I feel guilty if I post more pictures of one kid vs the other on IG.
I like it that Kendall gets up and out of bed on her own now, instead of laying in there screaming, "MOMMY I'M AWAKE!!!".
I just tried BB Cream and I'm o.b.s.e.s.s.e.d. I know this is so 3 months ago but I didn't know what it was and OMG how have I lived without it? It's perfect for days where I just have to drop KP off at school but want to look presentable!
I spent almost double what we normally do on groceries last week. Clean eating=good for you=$$$. No wonder America is so overweight.
I feel like we should be moving James to his crib soon but I have no desire to.
I'm going to Florida next week and have done NOTHING to prepare. Did I mention I'm taking both babies?
I have Voxer conversations more than regular conversations on a daily basis.
I have no idea what I'm wearing to the wedding I'm going to this weekend. I had really hoped to be down a lot more pounds and so yeah, getting dressed Friday won't be pleasant.
I used to despise character clothing but now it makes getting dressed so much easier that I actually kinda love it.
I kinda regret chopping my hair off.
I make Kendall something different for dinner every night. There is no way she's eating any of this clean eating stuff and, well, I don't want to fight with her.