This week I'm saying SO WHAT if...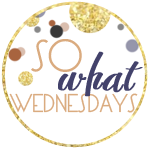 I'm already thinking about what my New Years Resolution will be.
I just fed Kendall pancakes for lunch.
My perfect night is putting the kids to bed without a fight and snuggling up on the couch.
I'm having a love/hate relationship with MyFitnessPal.
I took James out on a playdate in his PJs last week.
I get excited when Kendall let's me do something with her hair other than putting a clippie in her bangs.
Kendall's never had her hair cut.
The thought of Christmas stresses me out this year.
I'm putting a lamp on my Christmas list. Along with sweatpants and a coffee mug. Lame-o.
I think about selling our house often but hate the idea of having to redecorate all over again.
We still have pumpkins on display.
I get annoyed when I see people decorating for Christmas before Thanksgiving has happened.