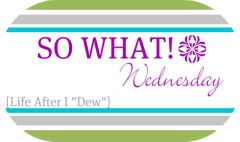 This week I'm saying SO WHAT if...
My Pandora stations range from Britney Spears to Jason Mraz to Death Cab For Cutie to Jay-Z to everything in between. Some may call it ADD, I call it variety.
My iPhone wallpaper must match my phone cover, must.
I bring a yogurt for breakfast everyday but I never eat it, ever. I like to have it just in case. I'd eat it if I were starving. I think I'm just burnt out on yogurt right now.
Afternoon coffee isn't as much of a luxury as a necessity these days. Who am I?
I was a little bummed that no one was outside when I came rolling into work in my new ride.
There is an outfit idea on Pinterest that I want to try out for our Friend Holiday Dinner this weekend but I'm afraid of looking a fool so I'll probably wear something more safe.
I still hate running. I'l "learn to like it" from what everyone else says, I'm not sure I'm sold just yet.
I ate 2 pieces of cake at the wedding we went to last weekend. There were 2 flavors and I couldn't chose just one. In my defense, J didn't eat any so "I ate his". Right.