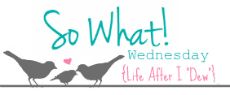 This week I'm saying SO WHAT! if...
I almost didn't remember to post this today. I'm in a blogging rut, what can I say?
I finished Fifty Shades of Grey yesterday and now I cannot wait to start reading Darker. OMG I'm addicted.
I'm most excited about the back/shoulder/head massage I'm going to get before my haircut versus my actual haircut. Either way a morning alone of pampering is nice.
I had a mini meltdown about our new one income situation last night. It's a big adjustment!
As much as I love bright, sun-shiny days, I crave rainy days, a lot.
I talk to my mom multiple times a day.
I have a job interview for Tuesday and I don't want to go.
I'm going to be sad when The Voice ends.
My house will never be as clean as I want it to be or as it was when we first moved in.