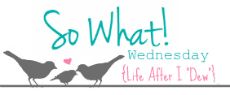 This week I'm saying SO WHAT if...
My mother-in-law babysat KP for a few hours yesterday and instead of doing something awesome, like get a massage, I came home and got caught up on some chores.
I am slowly transitioning KP's room into a big girl room. No big girl bed but some decoration changes. It's fun.
Jimmy asked me what I wanted to do tonight and I said "eat soup and grilled cheese and watch a movie". That's what a rainy day does to me.
I need my hair trimmed so bad but am too lazy to make an appointment.
I attempted to organize the playroom knowing full well it'd be destroyed in 2.5 seconds.
I still haven't washed my car from when we went on vacation. Sea salt residue galore. It did sit out in the rain so that counts, right?
I'm jealous of Kendall's new Sperrys. I mean she's 2 and has a pair, I'm nearly 30 and don't. Wahh!
I wish the humidity would die. I mean give it a rest already! I want to open my windows again!
I want to make every dessert I see on Pinterest. Especially the fall ones.
I tell Kendall things are sleeping when I don't want her playing with them. Inanimate objects people!